Back in late March 2016, I got the chance to travel on Shane's boat 'Vanquish' (a 32 ft Cabo) up to Jurien Bay over the Easter long weekend and Rhyss' 50th birthday.
We set off on Easter Saturday with big storms predicted in Perth and up the coast. I was actually quite surprised that I didn't get sea-sick. The first day we did demersal fishing – finding some spots that had been successful with fish previously and putting lines out.
And this was the first 'proper' fish I have caught. Check it out – a Dhufish. Great eating!
The West Australian dhufish (Glaucosoma hebraicum) is a WA fishing icon. It grows to a great size, tastes superb and is targeted by both commercial and recreational fishers. This species belongs to the Glaucosomatidae family (the pearl perches) and is endemic to Western Australia. It is an inshore demersal fish, which means it lives close to shore and close to the seabed. [Department of Fisheries, WA]
That evening we set anchor at Green Island and hung out catching squid and other things.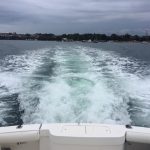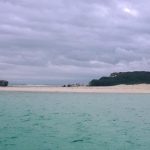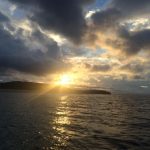 The next day we headed up to Jurien Bay and tried some trawling as we went, but didn't have any luck.